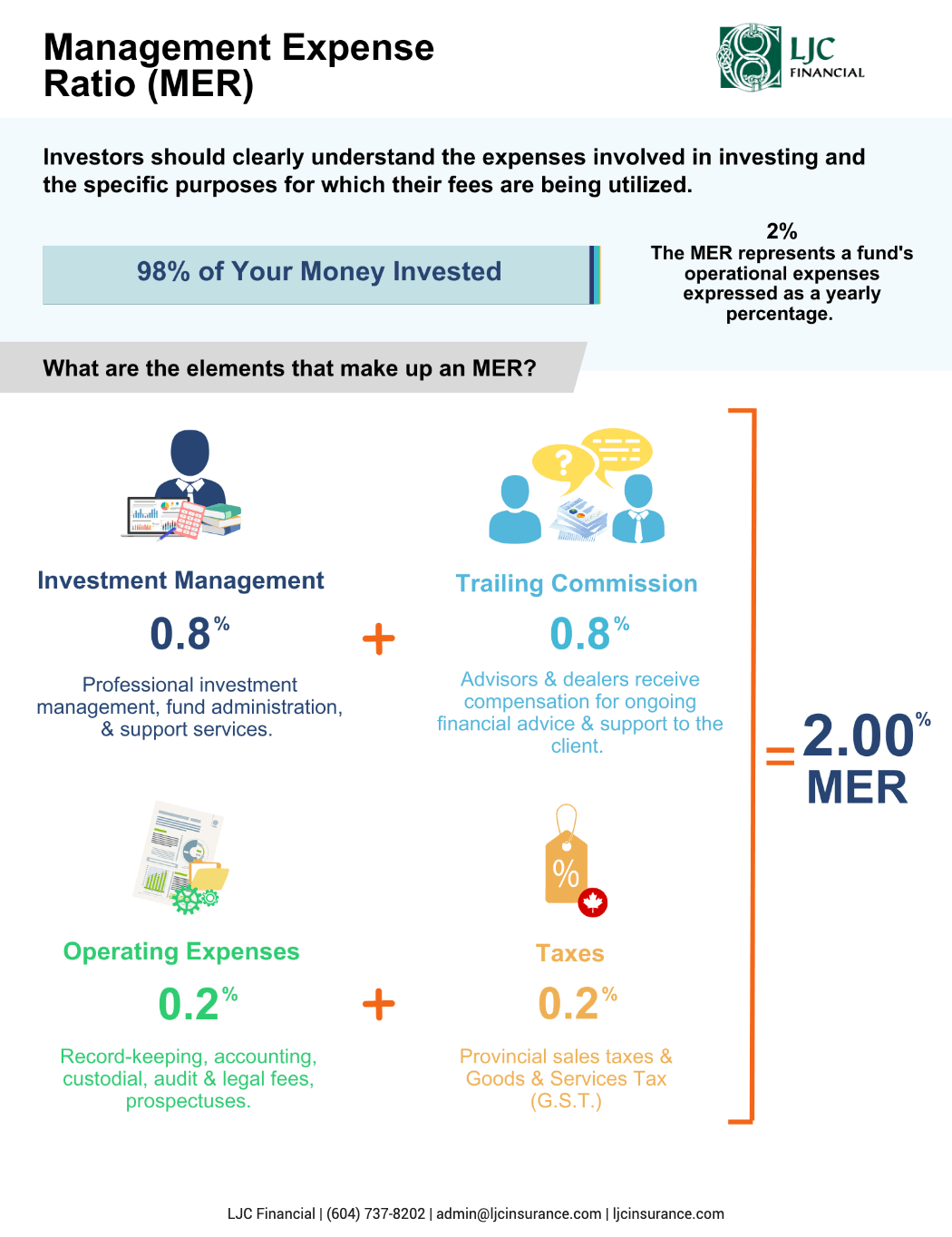 Investing in a fund requires a good understanding of its associated costs, including the Management Expense Ratio (MER). In this article and infographic, we'll break down the different components of the MER.
Understanding the Management Expense Ratio
The Management Expense Ratio is a percentage of the total assets in an investment fund that covers the cost of managing and operating the fund. It's essential to remember that the MER is deducted from your investment returns. Therefore, a higher MER means lower net returns for you.
For instance, if a fund's expenses added up to 2% of its assets, its MER would be 2%. It's essential to keep in mind that your returns are reported after the MER is deducted. Therefore, a higher MER can lead to lower net returns for you. Understanding a fund's MER is important in making informed investment decisions and ensuring you're getting the most value for your money.
Components of the Management Expense Ratio
There are several components of the MER, including:
Investment Management Fee
The investment management fee is the cost of professional investment management, fund administration, and support services. Investment fund managers and analysts conduct research and analysis of current and potential holdings for the fund, providing investors access to their expertise, education, and experience.
Trailing Commission
The trailing commission compensates the investment dealer and financial advisor for selling the fund and providing ongoing financial advice and service to the investor. The commission also covers trade confirmation, account openings and closing, issuance of statements and communications, and regulatory compliance activities.
Operating Expenses
Operating expenses are essential for the smooth operation of the investment fund, and they ensure that investors receive the information they need to make informed investment decisions. These expenses cover day-to-day costs, including record-keeping fees, accounting and fund valuation costs, custody fees, audit and legal fees, reports and prospectuses, and filing fees.
Taxes
Investment funds are required to pay taxes on their management and administration fees. In addition, they must also include GST/HST in their fees.
It's essential to comprehend the different factors that comprise the Management Expense Ratio to make informed investment decisions and maximize your investment's value.
To obtain further details, please do not hesitate to contact us.